The Robert Chesley/Victor Bumbalo Foundation supports playwrights of Gay and Lesbian theatre.
Established in 1993 by Victor Bumbalo in playwright Robert Chesley's honor, The Robert Chesley/Victor Bumbalo Foundation seeks to advance gay and lesbian theatre by honoring writers whose work is making a substantial contribution to our culture.
In 2009 the Board of Directors elected to form a partnership with the Helene Wurlitzer Foundation to provide residencies at the artists' colony in Taos, New Mexico.
The Wurlitzer Foundation and the Chesley/Bumbalo Foundation will select the awardees. The Chesley/Bumbalo Foundation will underwrite the residency expenses and, in addition, will provide a stipend to the awardee.
For further information on the application process please visit www.wurlitzerfoundation.org *
* Please mention that you heard of this award
through the Robert Chesley/Victor Bumbalo Foundation.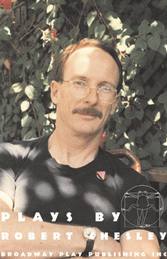 "Robert Chesley gave voice to a generation of gay men who suddenly felt free. It was a voice of no apologies.
Robert was a gentle, complicated, and generous man who loved the theatre. He would watch a play like a child in a trance. Ever so still with his eyes glazed and beaming.
I often wonder, if Robert were in the world today, what he would make of it and what glorious words would he be adding to our culture? "

- Victor Bumbalo